This past weekend, my Father-in-Law, Dave, and I set out on a journey: walk up High Street from where it intersects I-270 on the south side of Columbus (near Obetz) and finish in my hometown of Worthington, where 23 crosses 270 again on the north side. For those of you having a hard time picturing it, that looks something like this (direct link to Google Maps with specific waypoints):
Yeah, 16.7 miles through the heart of Columbus. Did we do it for fame? Raise awareness for a cause? Nope, because we could.
Granted, an urban expedition up 16 miles of paved sidewalks through a densely-populated city isn't some amazing feat of survival, but I can think of far worse ways of spending an unseasonably-warm Sunday in December. Also, did I mention there was beer?
Starting Out: The South Side of Columbus
I've spent most of my life in Columbus but very little time on the South Side. Formerly the center of industry in Columbus, the South Side is still home to the famed South Drive-In Theater. We also passed Wayne Webb's Columbus Bowl, which apparently has a tiki bar attached to it, so of course I'll have to go some time.
At this point in the walk, I had also revealed my devious plan: I had started a "Weekend Warrior" Fitbit challenge with some of my colleagues at 10up, including Ivan Kruchkoff and Kailey Lampert, two of the most active people I know (seriously, he travels the world and she's running at least 500 miles in 2015!). They'd never expect Mr. "10,000 steps on a really good day" would more than triple that in a single day.
Getting Familiar
After quite a walk past fast food joints, strip malls, and auto dealerships on the South Side we entered Merion Village, an area full of turn-of-the-century houses and people looking for more diversity (and better rents) than you might find just north in German Village.
When we did hit the neighborhood that's home to Schmidt's, Brown Bag Deli, and the Old Mohawk we needed to diverge from High Street for a change of scenery. Just a few streets off High we wandered the brick-paved streets of German Village.
At this point we were about a third of the way into our walk and starting to get hungry. We navigated to The Walrus on Main Street for some breakfast burritos (soooooo good) and some beers before continuing our journey.
After deciding that High Street through the Short North was "for pedestrians", we followed 4th Street across I-670 (while there's technically a sidewalk, I wouldn't recommend it) before stopping off for more drinks at one of my favorite local breweries: Seventh Son Brewing.
Campus into Clintonville
After rounding the corner at 5th Avenue and High we stuck to High Street for the remainder of the walk, ensuring we didn't get lost in the bustle of Campus or the amorphous blob of a neighborhood that is Clintonville. After more beers at Lineage Brewing, we finally made our way up to the intersection of Morse Road and High Street that serves as the home of Bob's Bar: The Cultural Hub of the Midwest. We swapped stories with the patrons, shared a few more drinks, and felt at home in this small-yet-significant public house.
Final Destination: Worthington
With the last remnants of Clintonville behind us we made our way into Worthington. After a quick stop off at Graeter's (my favorite ice cream in Columbus), we pressed on: the wind at our backs and no bar stops left on the agenda, we trudged through the darkness, illuminated only by the dim street lights and the headlights of passing cars, to the Worthington Mall where Kim, her mother, and Emily awaited us.
We shuffled into the booth at Pies & Pints, our feet blistered and our faces wind-burned. The pizza arrives, and we feast as though we'd spent the entire day running on breakfast burritos and beer. We order one last drink a piece, to put a close on an excellent Sunday afternoon.
When I got home, I synced my Fitbit and checked the Weekend Warrior standings: I narrowly edged out Ivan and Kailey in the challenge. A 16+ mile walk is a fun story, but the fact that it was required to get anywhere near these two should stand as a testament to how awesome some of my co-workers are.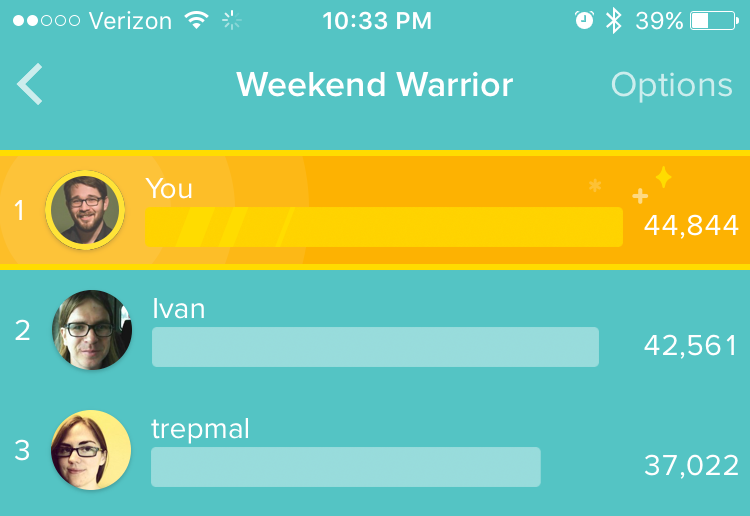 Epilogue
Columbus, you're beautiful and a wonderful place to live, but damnit you can be exhausting.
I was damn-near unable to walk the next day and am still feeling the effects today, but I'm excited for the next big walk. Where should I go, where should I stop for drinks (that's a normal exercise thing, right?), and – most importantly – who wants to come with me?