The other day I was contacted by Suyog Mody, co-founder of Brooklyn-based Driftaway Coffee, welcoming me to the world of home-roasting. As it turns out, he also started his home-roasting adventure on a popcorn popper before moving onto bigger and better roasters (a popcorn popper is great for starting out and for personal roasting, but wouldn't be suitable for roasting at a distribution scale). He and I discussed how we got started in roasting, and he invited me to check out what Driftaway Coffee was all about.
I did some digging, and found that Driftaway's offerings were pretty cool: after determining each customer's taste preferences (their "Coffee Profile"), Driftaway roasts and ships fresh bags of coffee to your door every two weeks. For a suburb-dweller such as myself this is huge, as one of the main reasons I got into home roasting was to avoid making weekly trips downtown to buy fresh coffee (believe it or not, big-chain grocery stores don't always have the freshest coffees). The beans used will change over time, but Driftaway carefully selects coffees of the same profile and sends small-batch, hand-roasted coffee fortnightly.
Driftaway also has a blog, the "Brewniversity", chock-full of great advice on brewing, equipment, coffee selection, and alternative coffee preparation methods. Days before I tried my first sip of Driftaway's coffee I was raving about the Brewniversity on Twitter and to my colleagues (I also blame Suyog for several of the more recent entries on my Amazon wishlist).
Some great reading about coffee in @driftawaycoffee's Brewniversity! https://t.co/5EIjNBA21b

— Steve Grunwell (@stevegrunwell) March 23, 2015
When Suyog offered to send me Driftaway's "Rise & Grind" kit (the package of four, 2oz packages of coffee from different origins used to determine the coffee profile of each customer), I eagerly accepted and offered to write up this post in exchange (for the record, I just like writing about coffee; getting to try a selection of small-batch, hand-roasted coffees from other passionate roasters is just a perk). A couple days later, I checked my mailbox and found this handsome package full of caffeinated delight: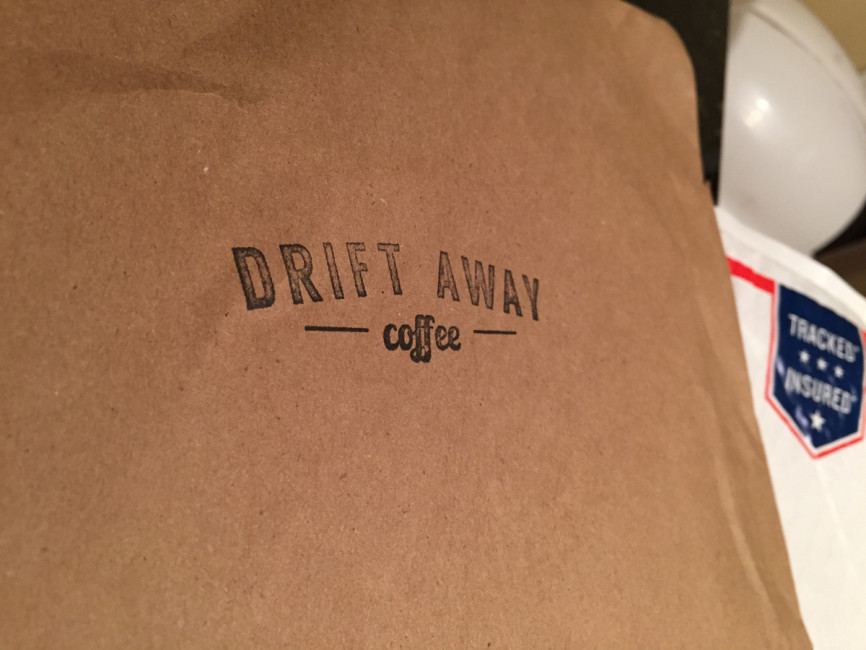 The packaging
I'm a sucker for classic, clean packaging, so Driftaway had already won me over with their stamped, brown craft paper motif. Inside the envelope were the four, equally-awesome looking bags of coffee along with a "Brewing 101" tip-sheet and a card with tasting notes for each of the coffees to help customers determine their coffee profile.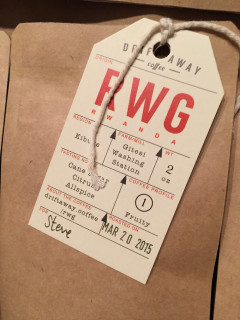 Each of the coffees bears a nametag, containing information about the country of origin, tasting notes, a URL for more information (I really love that idea, so I'll be linking to the corresponding pages for each coffee I write about), the roast date, and your name. I realize that it would be woefully inefficient to roast individual 2oz batches of coffee, and I'm fully aware that I was the only person getting coffee out of each batch, but it's a great personal touch to each of the coffees.
The coffees
The Driftaway Rise & Grind Kit contains one coffee from each of the four major coffee profiles: "Fruity", "Classic", "Balanced", and "Bold". There are different coffees in each profile (see Driftaway's "Our Coffees" page for their full list), but I received coffees from Honduras, Nicaragua, Brazil, and Rwanda.
Profile #4 (Bold): Honduras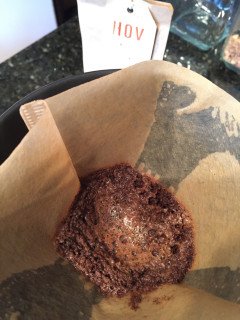 This was the first of the coffees I tried, mostly because the tasting notes on the tag listed "cocoa, pepper, and cherry". After preparing a pour-over with the beans I was pleasantly surprised with how well-rounded the coffee was; a very slight kick of pepper, a full-body, and a smooth finish. This might not be the coffee for a first-time coffee drinker, but I enjoy a beverage that reminds you it's there with each sip (to give you a frame of reference, I'm also a big IPA fan for the hoppy flavor).
Profile #3 (Balanced): Nicaragua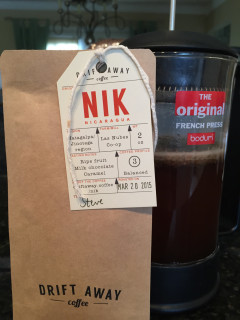 It was completely unintentional that I was going in reverse-order from the coffee profile numbers ("Balanced" is number 3), but by the time I realized the correlation of the numbers to the profiles I had already ground the beans. I chose to pull out the French Press for this roast, and it did not disappoint: the coffee was perfectly balanced and drank like a cup of cocoa; not as aggressive as the Honduras coffee, but ultimately a fantastic cup of coffee. This is the kind of coffee you'd want to drink on a Monday; nothing to agitate or complain about, just a well-rounded cup o' joe.
Profile #2 (Classic): Brazil
I was especially excited to try the Brazilian coffee, as it comes from the Carmo de Minas region, the same as my original batch of Bourbon-infused coffee. Suyog must have picked up on this too, as he included a note in my shipment stating "I'm excited to hear your comparison of the Brazilian coffee to the Bourbon-infused coffee!", and the roast did not disappoint: all the familiar flavors of that Brazilian bean (the last of which I roasted for my friends at WordCamp Dayton) came rushing back, including roasted almond and cocoa. The finish was smooth, though not quite as sweet as my Bourbon-infused variety, which brings out more of the caramel notes in the bean.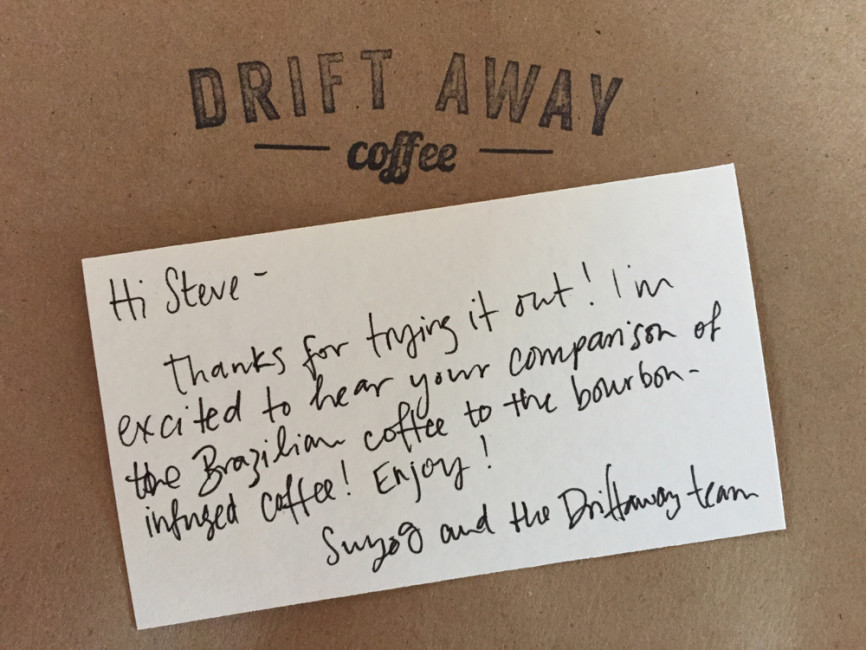 Brazilian coffee is what I taste when I think of a "classic" coffee flavor, and Driftaway hit it right on the nose.
Profile #1 (Fruity): Rwanda
Finally, I worked my way up/back/down to my entry from coffee profile #1, the Rwandan coffee. I gave this one the pour-over treatment (no photos, as the filter started caving in on itself), and upon my first sip I was hit by a strong (but very pleasant) grapefruit flavor. Premonitions of myself with mug of this coffee on a warm summer morning, sitting on my deck in the shade of mature pine trees came rushing to my head. Even my wife, who can't stand the flavor of coffee but loves tea, might enjoy this bright, refreshing roast. I wasn't expecting to love it, but boy, was I wrong.
Wrapping up
From the initial, personalized welcome to the finished product, my dealings with Driftaway have been fantastic. Their Rise & Grind kit are a requisite survey of the major coffee profiles for anyone new to good coffee, and the concept between fresh-roasted coffee delivered to your door is a dream for coffee fanatics who aren't already roasting themselves. As someone who both enjoys the process of and writing about roasting, I might not the be their target customer, but I'm grateful to Suyog for letting me see (and taste) what Driftaway Coffee is all about.
Oh, and Driftaway has gifting options, so I may have just figured out all my birthday/Christmas/wedding shopping for the coffee drinkers in my life.
Want to try it out? You can get a free coffee tasting kit using this referral link!